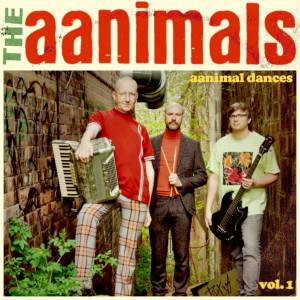 aanimal Dances EP Launched
The EP aanimal dances Vol 1 by the aanimals, which was delayed till Friday 7th May due to Art, is now available: the trio were waiting for album cover artist Doris the Parrot to complete her artistic response to the band's 5 animal-themed tracks.
Lead singer Eric Unburden said "Obviously we're gutted about the deadline but feel it would be wrong to launch without Doris's artwork. We're sure the fans will understand."
Doris, an African Grey, who lives in Saxmundham, originally lived with theatre legend Ken Campbell, who helped Doris with her artistic career.
The aanimals' drummer Kittiwake Valentine who did the graphics for the cover, mixed the album and created the band's Scuttling Crab video said "I've been knockin me pan in daeing all the work and all this fuss is getting made about a bleedin' parrot."
Chuff Chandler the bass player wasn't fussed either way but thinks he might be allergic to parrot faeces. This may be an issue if Doris decides to use both her 'peck-ture' and 'poop-ture' techniques.
So it was quite a party on Friday 7th May. The album is now available from Bandcamp; please spread the word, share the video and subscribe to the Brad Field Youtube channel.
---
"Tim Dalling's performance at Lau Land was breathtaking. Running the full gamut of human experience, exertion and emotion, he must surely be approaching the peak of his powers. You get a sense that he could do absolutely anything he wants.
"The only person you can go and see doing Tim Dalling is Tim Dalling, unique exhilarating brilliance."
Kris Drever (Lau)
To contact Tim Dalling to make a booking, or for any other reason:

Email:
Telephone 07954590273


Find Tim on FaceBook
and on Bandcamp.