Tim Dalling writes:
Julia Darling and I only ever did one gig together – an evening at the Cumberland Arms, Byker in May 2004. It was a very straightforward gig. I sang my songs and Julia read her poetry and we had a great time.
A couple of months earlier, Julia had given me six of her poems to turn into songs. As I sat at the piano, the words fairly waltzed off the page. It was a delightful experience working on those and the subsequent five songs.
Sadly our plans for a world tour never materialised. We were both too busy to arrange and perform more gigs.
Despite this, I feel very fortunate in having had the chance to work, however briefly, with this wonderful woman.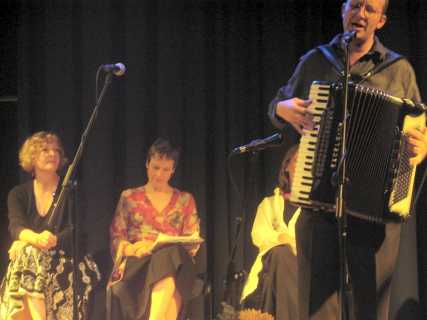 The official launch was at The Buddle Arts Centre, Wallsend on Friday 29th July, and was a sell-out, and a great night.
The photo (left) by Nicky Rushton shows Tim with, looking on left to right, former Poetry Virgins Charlie Hardwick, Kay Hepplewhite and, disappearing behind the accordion, Fiona Macpherson.
Tim Dalling's collaboration with Julia Darling provided the music for The Waiting Room, an Afternoon Play broadcast by Radio 4 in January 2007. Extracts from Julia's web diary were edited by Jackie Kay and performed by actor Charlie Hardwick, who also sang some of Julia's poems, using Tim's settings and with his musical accompaniment.
Track listing and samples
Bridge Hotel (Tim)
How to Make a Curative Soup (Julia) Listen to How to Make a Curative Soup
Salsa Dancing Class (Tim)
Small Things In the Cupboard (Tim)
Newcastle (Tim)
How to Frighten Cancer (Julia)
Ageing Sisters (Tim)
Injection (Julia)
How to Negotiate Hospital Corridors (Tim)
How To Behave With The Ill (Julia)
How To Speak With Tired People When You Visit Them In Hospital (Tim) Listen to How to Speak With Tired People...
My Old Friend Hospital (Julia)
Nurses (Julia)
How To Deal With Terrible News (Tim)
Two Lighthouses (Tim) Listen to Two Lighthouses
Indelible, Miraculous (Julia)
Rendezvous Café (Tim)
We regret that Rendezvous is not currently available.