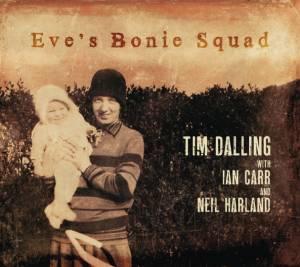 Tim Dalling - with Ian Carr and Neil Harland
"Eve's Bonie Squad is the latest album from Tim Dalling, songwriter, performer and kilted fall-guy in the phenomenon that was The New Rope String Band. His songs are a rich mix, full of vivid imagery made tangible through Tim's whisky-warm vocals and joyous, dancing accordeon playing."
fRoots
I watched a documentary called 'The Secret Life of Waves' in which a scientist used the metaphor of a wave for human life. A wave doesn't really exist as an object, it's just energy moving through water particles. It's not an object, it's a process. So humans are just processes, forms of energy creating, building and discarding cells until we eventually crash on to the shore. I've found this metaphor really helpful as I've started to se the first faint outline of land up ahead.
So I'd like to dedicate these songs to all those waves in front and behind, from William Dalling, Nellie Maud Palmer, Eileen and Alan Baker to Tom, Rhona and Ailsa Dalling and the waves behind them.
We've fauts and failins - granted clearly:
We're frail backsliding mortals merely,
Eve's bonie squad, priests wyte them sheerly
For our grand fa';
But still - but still - I like them dearly;
God bless them a'!
Robert Burns, Epistle to Major Logan
"...simply expressed but beautifully realised songs..."
The Eve's Bonie Squad CD is now out of stock: but you can now download it from Bandcamp!
Track listing and samples

1.
Picture of You
2.
Poison Hand
Listen to Poison Hand
3.
Where I Want To Be
4.
Mr Michael Marra
Listen to Mr Michael Marra
5.
Hey Burro
- poem by Nigel Wild
6.
Song of the Lower Classes
- poem by Ernest Jones
7.
Two Lighthouses
- poem by Julia Darling
8.
Eve's Bonie Squad
9.
Shy Bairns
- poem by Dr Keith Armstrong
10.
They'll Never Come Back
11.
Indelible, Miraculous
11.
Song of the Wind
- poem by Julia Darling
11.
Enivrez-Vous (Get Drunk)
- poem by Charles Baudelaire
11.
Thalassa
- poem by Louis MacNeice
All songs by Tim Dalling