Appearances and Summer Fun
The Dancing Frog
Tim Dalling is performing in Kneehigh Theatre's new show The Dancing Frog, based on the children's book by Quentin Blake. (His daughter Ailsa is the puppeteer of the frog in the show!)
Performances Monday 6th - Sunday 26th August at Kneehigh's Asylum Tent in Heligan, Mevagissey, Cornwall - suitable for children, adults and animals of all shapes and sizes. Running time: 55 minutes. Onliine booking.
Pigspurt's Daughter
Tim is proud to be helping to arrange a performance of Daisy Campbell's solo show Pigspurt's Daughter at the Star and Shadow, Stepney Bank, Newcastle upon Tyne, NE2 1BB on Monday 10th September. (Daisy is daughter of Ken Campbell the maverick theatre auteur who died ten years ago). Tim says, "Come to that. It'll be brilliant."
More information and online booking.
Aye, Coyote
He will also be giving performances of his own solo show, Aye, Coyote!, a theatrical mixture of autobiography and trickster stories, some singing, dancing and a dollop of sacred purification ritual.
Friday 17th August, late night (11.00 pm-ish)

at Kneehigh Barns, Gorran Haven

Wednesday 22nd August

The Old Bakery Truro

Monday 17th September

Crick Crack Storytelling Club, Soho Theatre, Dean Street, London

Wednesday 19th September, 8.00 pm

Star and Shadow, Stepney Bank, Newcastle upon Tyne, NE2 1BB - buy tickets.

Thursday 20th September

Brigsteer Village Hall Underbarrow Road, Brigsteer, Kendal, Cumbria LA8 8AL
Why not make your own Aye, Coyote! half mask? Simply cut round where the nose should be (leaving a nice 3mm black margin) and cut out the eye holes and sellotape a pair of cardboard spectacle legs on the back. When sporting your mask round town, you can explain to puzzled passersby by telling them all about Aye, Coyote!.
---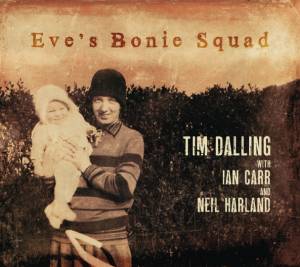 "Eve's Bonie Squad is the latest album from Tim Dalling, songwriter, performer and kilted fall-guy in the phenomenon that was The New Rope String Band. His songs are a rich mix, full of vivid imagery made tangible through Tim's whisky-warm vocals and joyous, dancing accordeon playing."
fRoots
I watched a documentary called 'The Secret Life of Waves' in which a scientist used the metaphor of a wave for human life. A wave doesn't really exist as an object, it's just energy moving through water particles. It's not an object, it's a process. So humans are just processes, forms of energy creating, building and discarding cells until we eventually crash on to the shore. I've found this metaphor really helpful as I've started to se the first faint outline of land up ahead.

So I'd like to dedicate these songs to all those waves in front and behind, from William Dalling, Nellie Maud Palmer, Eileen and Alan Baker to Tom, Rhona and Ailsa Dalling and the waves behind them.
More about Eve's Bonie Squad; copies now available from Bandcamp.
Read a profile and review in The Herald.
---
"Tim Dalling's performance at Lau Land was breathtaking. Running the full gamut of human experience, exertion and emotion, he must surely be approaching the peak of his powers. You get a sense that he could do absolutely anything he wants.
"The only person you can go and see doing Tim Dalling is Tim Dalling, unique exhilarating brilliance."
Kris Drever (Lau)
To contact Tim Dalling to make a booking, or for any other reason:

Email:
Telephone 07954590273


Find Tim on FaceBook