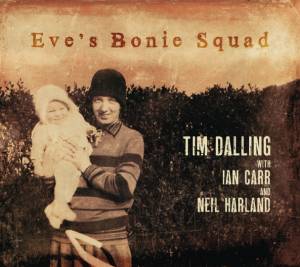 "Eve's Bonie Squad is the latest album from Tim Dalling, songwriter, performer and kilted fall-guy in the phenomenon that was The New Rope String Band. His songs are a rich mix, full of vivid imagery made tangible through Tim's whisky-warm vocals and joyous, dancing accordeon playing."
fRoots
I watched a documentary called 'The Secret Life of Waves' in which a scientist used the metaphor of a wave for human life. A wave doesn't really exist as an object, it's just energy moving through water particles. It's not an object, it's a process. So humans are just processes, forms of energy creating, building and discarding cells until we eventually crash on to the shore. I've found this metaphor really helpful as I've started to se the first faint outline of land up ahead.

So I'd like to dedicate these songs to all those waves in front and behind, from William Dalling, Nellie Maud Palmer, Eileen and Alan Baker to Tom, Rhona and Ailsa Dalling and the waves behind them.
More about Eve's Bonie Squad; copies now available from Bandcamp.
Read a profile and review in The Herald.
Why not make your own Aye, Coyote! half mask? Simply cut round where the nose should be (leaving a nice 3mm black margin) and cut out the eye holes and sellotape a pair of cardboard spectacle legs on the back. When sporting your mask round town, you can explain to puzzled passersby by telling them all about Aye, Coyote!.
---
"Tim Dalling's performance at Lau Land was breathtaking. Running the full gamut of human experience, exertion and emotion, he must surely be approaching the peak of his powers. You get a sense that he could do absolutely anything he wants.
"The only person you can go and see doing Tim Dalling is Tim Dalling, unique exhilarating brilliance."
Kris Drever (Lau)
To contact Tim Dalling to make a booking, or for any other reason:

Email:
Telephone 07954590273


Find Tim on FaceBook