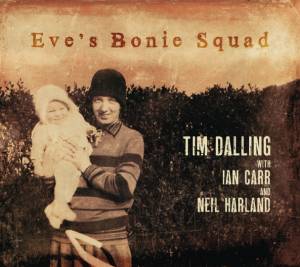 "Eve's Bonie Squad is the latest album from Tim Dalling, songwriter, performer and kilted fall-guy in the phenomenon that was The New Rope String Band. His songs are a rich mix, full of vivid imagery made tangible through Tim's whisky-warm vocals and joyous, dancing accordeon playing."
fRoots
I watched a documentary called 'The Secret Life of Waves' in which a scientist used the metaphor of a wave for human life. A wave doesn't really exist as an object, it's just energy moving through water particles. It's not an object, it's a process. So humans are just processes, forms of energy creating, building and discarding cells until we eventually crash on to the shore. I've found this metaphor really helpful as I've started to se the first faint outline of land up ahead.

So I'd like to dedicate these songs to all those waves in front and behind, from William Dalling, Nellie Maud Palmer, Eileen and Alan Baker to Tom, Rhona and Ailsa Dalling and the waves behind them.
Read a profile and review in The Herald.
---
Autumn Events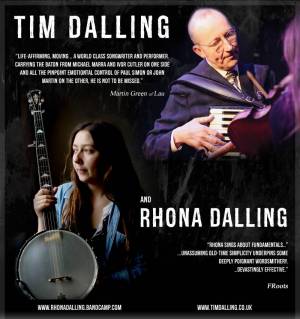 Walk Me Round is a debut album from Tim's daughter, Rhona Dalling. Although a qualified textile artist, she is most inspired at the moment by music-making. Growing up playing fiddle at home and with Kathryn Tickell's Folkestra, then singing close harmonies with Northumbrian quartet Beckleberry she became excited about American oldtime, grabbed a banjo and a bunch of her own "devastatingly effective"(fRoots) songs tumbled out.
For years, there's been many a night in the Bonie Dalling Squad's end terrace in Newcastle upon Tyne, when the kitchen has been glowing till dawn with tunes, songs and carry-on. The time has come to share the fun and joyful music. Come along to see and hear Tim and Rhona Dalling and prepare to laugh, cry, sing along and have a total out-of-body experience.
Tim and Rhona will be at the Allen Valleys Folk Festival on Sunday 2nd October.
PLUS: Shearwater mini-tour - seabirds, stories and songs by Tim Dalling and Malcolm Green
---
Since the New Rope String Band's last performance (now available on DVD!), Tim has performed 77 shows as Willie Sprout Snr. in Northern Stage's Up and Out Christmas Sprout, a Christmas show for six year olds and under. He was the composer and musical director.
Tim's other new project is Aye, Coyote:
Throughout the year, in various places, there'll also continue to be solo shows of songs and capering aboot. He will keep in touch somehow!
---
"Tim Dalling's performance at Lau Land was breathtaking. Running the full gamut of human experience, exertion and emotion, he must surely be approaching the peak of his powers. You get a sense that he could do absolutely anything he wants.
"The only person you can go and see doing Tim Dalling is Tim Dalling, unique exhilarating brilliance."
Kris Drever (Lau)
To contact Tim Dalling to make a booking, or for any other reason:

Email:
Telephone 07954590273


Find Tim on FaceBook